8 APRIL • SATURDAY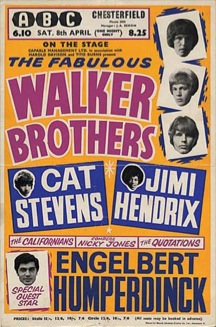 ★
Chesterfield, "ABC", Cavendish Street, Derbyshire - Concert (two shows - 18:10 and 20:25).
Capacity: 2,048 seats.
According to a report in
Disc and Music Echo
(15 April), Jimi 'had four stitches put in his foot after a fuzz-box foot control broke during his show... but he was able to go on for the second house.'
The 'package' tour consisted of: The Walker Brothers, JHE, Cat Stevens, Engelbert Humperdinck, The Californians, The Quotations [backing band for The Walker Brothers]; MC Nick Jones.