10 MAY • WEDNESDAY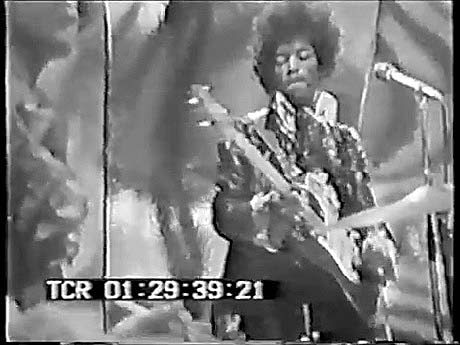 ★
London W12, "BBC Lime Grove Studios", Lime Grove
TV rehearsals and tele-recording for the 'Top Of The Pops' edition of 18 May.
The Experience occupied dressingroom 66 and rehearsed around 16:30. Between 20:15 and 21:30 the JHE recorded "The Wind Cries Mary" (3:27 - studio version with live vocals). TOTP chart position for "The Wind Cries Mary": 13. The Experience were introduced by DJ Jimmy Savile. TOTP producer: Johnny Stewart. JHE fee: £78.75



★
JHE Photo session by Harry Goodwin in the BBC dressing room, possibly between rehearsal and tv recording.
★
Between 7 and 13 May
London Wl, "Speakeasy" - Jimi jams with Amen Corner.