UNDATED PHOTOS OF 1967
Collecting photos always leaves some in your collection which are undated, or even unknown where they were taken. The following are a few which I have been unable to match to a place, date or photographer. Please let me know if you have more information on one or more of the photos below.
Please contact me
here
.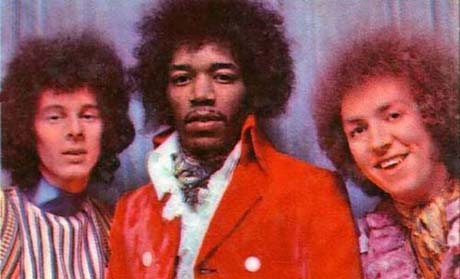 Photo 005.
This photo was published on the cover of
Pop Ten Teenbeat
Annual 1969. A possible date for this could be 7 May 1967 at the Saville Theatre, taken before or after the second show.
[Please note magazine and book published photos are assumed to be in the public domain, and therefore will not be removed]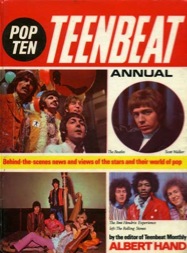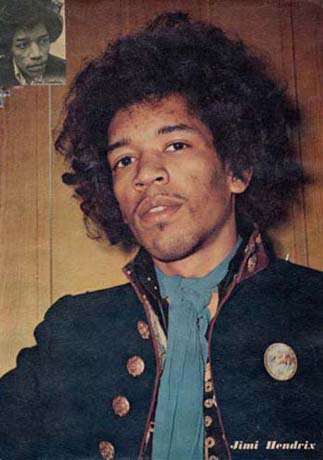 Photo 009.
The only information known of this photo is that it was published in a magazine called
Trend
, dated 10 June [1967?]. It seems to be a women's magazine judging by what's on the reverse of the page. [With thanks to Rupe].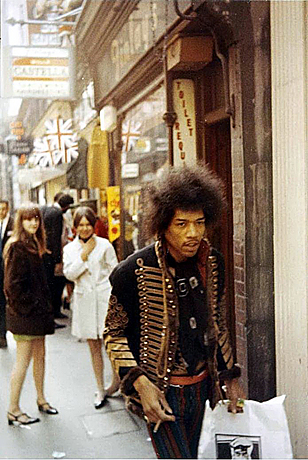 Photo 010.
This photo was auctioned by Christie's in 2013, estimated to fetch between £1,000-£1,500.
Lot Description: An unpublished colour negative of Jimi Hendrix walking down Carnaby Street, London, June 1967.
Note: Jimi seems to be holding a small cigar in his right hand, and a "I Was Lord Kitchener's Valet" shopping bag.
Jimi just passed "Finlay's", according to www.sixtiescity.com
"hairdressers and tobacconists in Carnaby Street."


Paul Gorman
:
A previously unpublished June 1967 photograph of Jimi Hendrix not in Carnaby Street as captioned, but outside the tobacconist Finlay's, which was in Foubert's Place. It's evident from the carrier bag in his famous left hand that the guitarist had just visited I Was Lord Kitchener's Valet, which was next door to Finlay's and the place where he bought the Hussar's jacket worn in this photograph and at Monterey Pop that same month.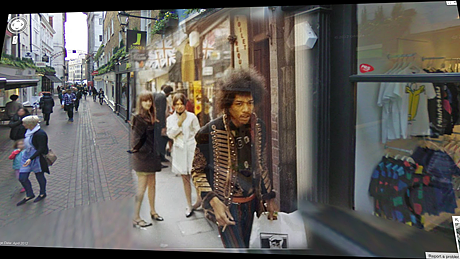 Photo montage of Jimi in a Google street view photo on the same location where the original photo was taken. Photo montage © Paul Campbell.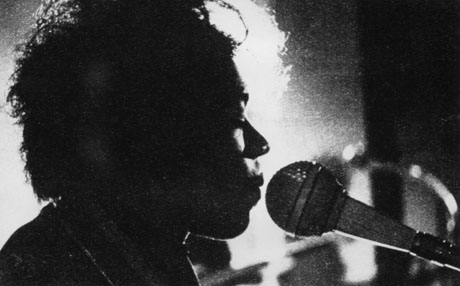 Photo 017.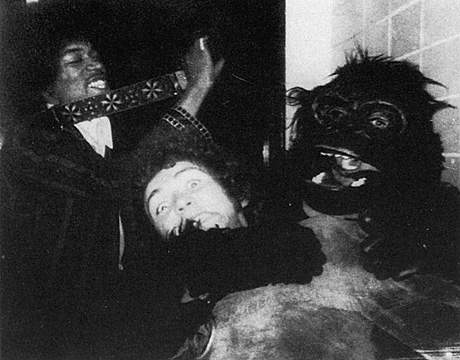 Photo 018.
Photo 018 was published in Noel Redding's book
Are You Experienced?
. The caption reads: "Backstage on the 1967 tour with The Monees. (The gorilla is not a Monkee...)" I doubt if this photo was taken during the July 1967 Monkees tour. I have no photos of Jimi wearing that striped coat during that period. First time we have visual proof of him wearing that coat [and matching pants] is on 27 April 1967 at an Aldershot concert, although Jimi already had the pants on 20 April in Lincoln. The last time we see him wearing the coat is on 22 May 1967 in Helsinki, Finland. My best bet is that this photo was taken between 15 and 22 May, either in Germany or Scandinavia.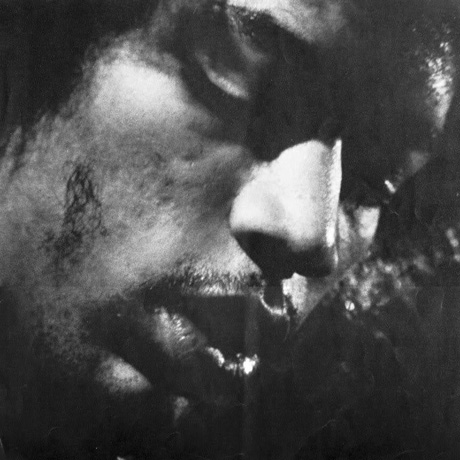 Photo 019.
According to Lifelines contributor Luigi Garuti this could be from the 4 May 1967 tv recording of Top Of The Pops. Indeed it seems to be from that period, but other tv recordings from May 1967 are an alternative.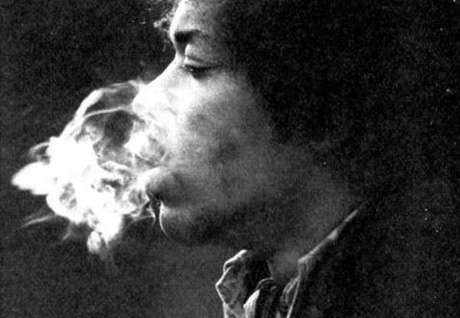 Photo 020.