28 SEPTEMBER • JIMI JAMS AT THE 'LES COUSINS' FOLK AND BLUES CLUB
by Calvin Taylor
Having seen the American Folk Blues Festival when it went to the Colston Hall, Bristol on 23 October 1965, I was really looking forward to seeing the 1966 Festival, at the Royal Albert Hall, London on 28 September 1966.
I was 18 years old in 1965 and after the Bristol show we personally met all of the performers except John Lee Hooker. We spoke to and obtained the autographs of Mississippi Fred McDowell, Doctor Ross, Roosevelt Sykes, J. B. Lenoir, Eddie Boyd, Buddy Guy, Big Mama Thornton and Shakey Horton. I remember Roosevelt Sykes even trying to get me married off to his daughter!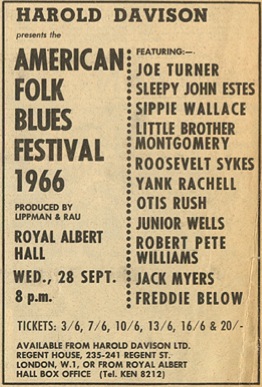 We had been very lucky to meet all of these Blues stars. We were not autograph hunters as such and nothing was planned but as we were going to sleep rough, we had time to kill. After the show we were hanging around and noticed that all of the Blues performers (except John Lee Hooker), getting on a waiting coach. They were staying at a hotel not far from the Colston Hall where they had just performed and somehow we had managed to get to the hotel where they were staying. Outside that hotel we talked to them all at some length, which they seemed more than pleased to do.
The Blues Festival had been coming to Europe annually from 1962 but 1965 was the first one I had seen live and I was very much looking forward to going to the 1966 one in London. Three or four of us travelled up to London by train from Bournemouth, where we lived. In London we would have visited as many record shops as possible before heading to the Royal Albert Hall in the evening to see the show. The Royal Albert Hall was a great venue and I had been there only four months before to see Bob Dylan. The Blues Festival performances were great but, looking back, what was staggering was that after the show we went backstage and met each and every one of the performers: Roosevelt Sykes (again) – he never mentioned his daughter this time! – Junior Wells, Otis Rush, Sleepy John Estes, Yank Rachell, Little Brother Montgomery, Sippie Wallace, Robert Pete Williams, Big Joe Turner plus drummer Freddie Below and bassist Jack Myers. We had no special privileges or passes and to this day I am amazed that they allowed us backstage, but they did – they must have been very much more free and easy then, allowing fans to meet their stars. Again, we spoke to all of the performers and obtained every single autograph including a cross (X) from Sleepy John Estes, who was virtually blind and could not write.

We knew that we would miss the last train back to Bournemouth that night. I do not think we had any intention of sleeping rough, as we had done in Bristol the previous year – London was much more vibrant at night. We just had to find somewhere to go to keep out of the elements and then catch a train back home later in the morning. The Blues Festival had been on the evening of Wednesday 28 September. One of my mates knew the haunts of London better than me as he came up to London, where his father lived, more often. He suggested that we should go to Les Cousins Folk 'n' Blues Club in Greek Street, Soho where he had been several times before and where he knew that we could probably stay till close to daybreak. There were no better suggestions so we headed for Les Cousins. It must have been close to midnight when we arrived there. We had no trouble getting in and I was issued with a membership card (which I have still got). We were pleasantly surprised to find that the resident act for that night was Alexis Korner, 'the father of British Blues'. We had come to London for a Blues Festival and we were more than happy for the Blues theme to continue.
I was pleased with the casual but intimate atmosphere of the club. It seemed that Alexis Korner would do up to about an hour, then have about half an hour's break and then come on again - I think he was fronting a three man group. I managed to speak for quite some time to the gravelly-voiced Alexis during one of his breaks. He was a very interesting character. I had seen when he was singing that between songs he would frequently drink from a pint glass. Whilst talking to him I noticed that what he was drinking was a bit unusual and asked him what it was and he told me – it was liquid honey! He explained that it was to soothe his throat and it especially helped him on these all night sessions.


Alexis had done a couple of spells whilst I was there (and possibly more before) and it was at least 2 o'clock in the morning – possibly nearer 3 o'clock – and I had noticed behind the band a face I recognised. It was Chas Chandler of The Animals. It all seemed unplanned and unexpected and then a little later it was announced that there was to be a surprise guest turn. I can remember that he was announced as 'just flown in from America' or 'straight off the plane' or something very similar 'for his first appearance in this country', Jimmy Hendricks – that is what it sounded like. The new singer from the United States was introduced as a sensational guitar player who was going to make it big. Yeah! We had all heard that before. Nobody had heard of him, he was a complete unknown. From memory he did not perform that long, maybe half an hour or so.
To be honest, I was not particularly impressed although I think my friends liked his act more than me. He was an imposing figure and I think that what I remember most visually was his wild hair. I thought he played a few bum notes, which would not have been surprising if he was suffering from jet-lag. He had quite a flamboyant act including playing the guitar behind his head (as I had seen T-Bone Walker do) and with his teeth – which I felt did not quite come off. I think I might have given him 8 out of 10 for effort. However, it never crossed my mind that I was seeing history in the making. At the time, I never thought any more about it. It was just a small part of a very exciting 24 hours.
We stayed in the club to the bitter end and only left when the club closed – probably sometime after 4am. We had had no sleep and not much to eat. I am sure that we went to a Lyons Corner House or a Wimpy Bar for breakfast and made our way to Waterloo station to catch a train back to Bournemouth, on which we would have caught up on a bit of sleep. End of story but………


What we did not realise until two months later, when 'Hey Joe' was released, was who we had seen in the early hours of Thursday 29 September 1966 at Les Cousins Folk 'n' Blues Club, 49 Greek Street, Soho, London. It was JIMI HENDRIX. And then, of course, there was no way of knowing what such a big star he was going to turn out to be.
When I look back, with my enquiring mind, I realise that Jimi Hendrix's introduction at Les Cousins was stretching the truth a little. I know now that Jimi arrived in the UK on Saturday 24 September 1966, so he had been in Britain over four days when my friends and I saw him – he had not just stepped off a plane or come straight from the airport. I can understand that it is a 'good line' and I am sure that whenever and wherever he appeared in that last week of September 1966 that he did quite a few first ever appearances in the UK!
For over forty years I truly believed that I had seen Jimi Hendrix's first ever gig in Britain but subsequent cross-reference of facts casts doubt on that. However, that night at Les Cousins lives on in my memory – the time I had come in from the cold and got lucky!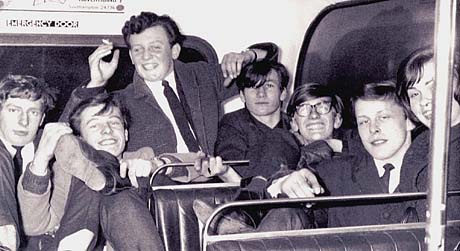 This photo, taken in 1965, of me and my friends on our way to a Screaming Jay Hawkin's gig. I am the one in the middle of the seven people pictured (with a man on my right with his arm on my head). My mate, Merric Davidson who also went to the Blues Festival and saw Jimi Hendrix with me is the one in glasses, to my left (third right as you look at the photo).


Knowing that Alexis Korner was at Les Cousins overnight 28/29 September 1966 and believing he was fronting a three-man group that night I tried to establish who the other two members were - without total success. After Alexis Korner's previous group Blues Incorporated disbanded in 1966 he formed a trio. However, it seems that there were quite a few personnel changes in 1966 alone. Part of the answer might have been that Alexis used different people for different gigs/TV work/recordings etc.

One source says a new band was formed called Free At Last, with Alexis Korner (guitar/vocals), Cliff Barton (bass) and Hughie Flint (drums). Another source says that sometime between September 1966 and January 1967 Barton was replaced by Binkie McKenzie - that trio (Korner/Flint/McKenzie) recorded 'Rosie' on 31 January 1967. Another source says that recordings in April 1966 had Terry Cox on drums and Danny Thompson on string bass - those two became founding members of Pentangle in 1967.

I think that it is highly likely that Hughie Flint was in Alexis Korner trio when I saw Jimi Hendrix on 29 September and it may well have been at Les Cousins that night that Chas Chandler found out about Mitch Mitchell's availability, that ended up completing the formation of The Jimi Hendrix Experience group. It seems that Chas Chandler wanted Hughie Flint to be in Jimi's new band but when asked Hughie declined informing Chas that he was about to join Georgie Fame's group. Whether that happened at Les Cousins I do not know but it alerted Chas Chandler that Mitch Mithell of Georgie Fame's group was on the move.

It seems Chas Chandler then auditioned both Mitch Mitchell and Aynsley Dunbar, did not know who to choose and in the end Mitch was picked to join the new Jimi Hendrix Experience on the toss of a coin!

My mate Merric Davidson from the Toppermost website has just brought to my attention something interesting that he has just found on the internet:


Bredda:
"I worked at Les Cousins from its inception for about 4 years on and off behind the bar, inbetween working at Ronny Scotts when I had rows with Andy or his parents. Les Cousins was started as a french disco by a couple of french student cousins. Andy was 17 and used to act as dj. His parents owned the restaurant above and supplied all the sandwiches for the allnighters. I went in one night with some friends (I was 16) and got involved. After a short spell as a rock venue we went over to folk music. I heard some phenomenal music over the years, worked my socks off and adored it. The first night in England Jimi Hendrix came in with Chas Chandler and Alexis Korner was playing & Chas asked if Jimi could jam with the band and when Jimi played with his teeth better than most can play with their fingers we were all gobsmacked. Memories of hearing some wonderful artists - Bert, Jackson C Frank, Sandy Denny Martin Carthy Watersons Paul Simon."
Calvin:
What is extremely telling is that Bredda must have heard exactly what I had heard - that Jimi was introduced as being at Les Cousins on his first night in England!


With special thanks to Calvin Taylor.
For more information on the British music scene, please visit
Toppermost
.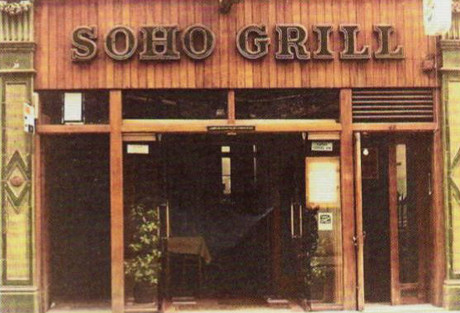 The Soho Grill opened in 1960, offering classic French cuisine, and in 1964 a manager was employed to start Les Cousins in the basement.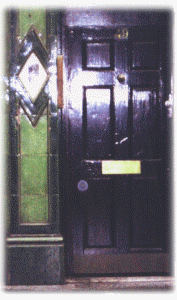 The door of LES COUSINS. 49 Greek Street, now a wine bar.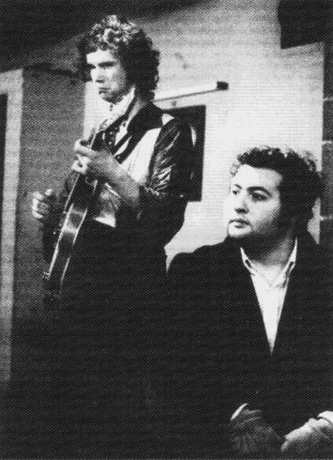 John Martyn and Andy Matheou © Ray Stevenson.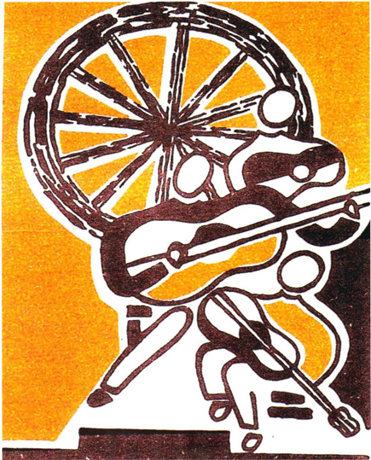 Les Cousins logo