24 JANUARY • TUESDAY

★
Bruce Fleming photo studio, 12 Great Newport Street, London W2.
JHE photo call.
[Please note:
Univibes
magazine issue 61/62, dates this session to 9 January 1967.]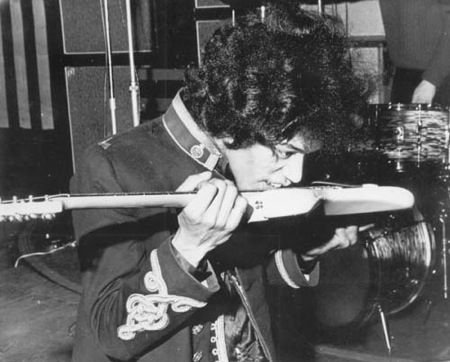 London W1, 90 Wardour Street, "Marquee" - JHE rehearsals; JH photo calls with Barry J. Peake, Paul Popper, and Ray Stevenson.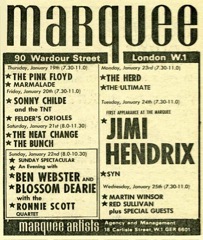 London W1, Marquee - Concert (60 minutes -between 19:30 and 23:00). 1,400 people attend (all previous attendance records were broken; the queue ran from Wardour Street to Shaftesbury Avenue all the way to Cambridge Circus).
Support: The Syn. The JHE broke all attendance records at the "Marquee" and grossed a reported £800.
SONGS - Hey Joe; Stone Free; Like A Rolling Stone; Wild Thing; and others. Unconfirmed set list.
SUPPORT Syn - Peter Banks (guitar); Chris Squire (bass, vocals); Andrew Jackman (keyboards), Steve Nardelli (vocals); Gunnar Hakanarssen (drums).