16 DECEMBER • FRIDAY
★
"Hey Joe" b/w "Stone Free", the first JHE single, released by Polydor in the UK.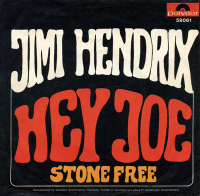 ★
London - JHE photo session (possibly with Dezo Hoffman).
★
Rediffusion London (channel 9), first transmission of the penultimate edition of 'Ready, Steady, Go!' TV show. The JHE and Chas watched the "Hey Joe" live version at the Montagu Square flat.
★
Lifelines
contributor Renwick Macneill: The final episode of RSG was on 23 December – titled 'Ready Steady Goes!' – it did not feature Jimi.
★
"Chislehurst Caves", Old Hill, Bromley, Kent • JHE concert (60 minutes)