2 FEBRUARY • THURSDAY

★
London W1, 34 Montagu Square flat
Likely the day Steve Barker interviewed Jimi for
West One
(student newspaper for 'The Polytechnic', London), publication date 6 February 1967.
★
Repeat transmission of "Hey Joe" (3:46) on 'Top Of The Pops', BBC1 TV (recorded 29 December 1966).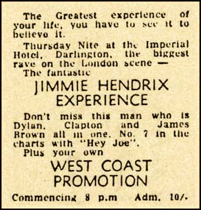 ★
Darlington, "Imperial Hotel", Durham - Concert (20:00).
Support: West Coast Promotion. Two hundred people attended the concert.
Afterwards, party at the Club A Go Go with The Moody Blues. [JB]
Backstage interview and photo session [see photos below] with Jimi by Charles Westberg from the
Northern Echo
[published 3 February].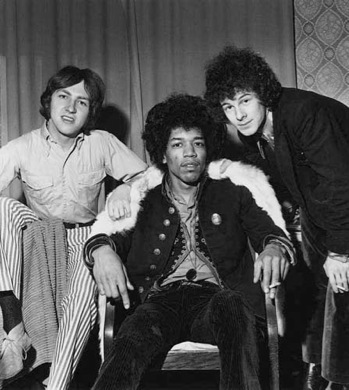 'I bought missing Jimi Hendrix guitar for £20'

by Stuart Arnold

A MUSICIAN who "jammed" with Jimi Hendrix on the night the rock star's guitar was stolen has told how he later bought the missing instrument for £20. Tony Carrington, who grew up in Darlington but now lives in Middlesbrough, described the black Fender Stratocaster as "horrible" and said it did not even play that well. The whereabouts of the guitar – and who took it – has become the stuff of myth and legend since it was stolen following a gig in Darlington on February 2, 1967. Hendrix – who by then had claimed his first top ten hit Hey Joe – played in front of 200 fans at the Blue Pad nightclub at the Imperial Hotel, in Grange Road, known locally as the Imp. Following the concert, it was discovered that one of two, or possibly three, guitars used on the night, had gone missing. Various tales abound of how it was stolen – from the stage by a fan, or disappearing from a kitchen courtesy of a "dumb waiter", or being whisked down a fire escape. The legend of the missing guitar has endured and only this month a Darlingtonbased Hendrix tribute band, Sundance, launched an "amnesty" in the hope that whoever owns it will come forward so it can be returned to the late rocker's family. Mr Carrington, who was a one-time lead guitarist with the Vipers, later to become Jimmy Williams and the West Coast Promotion, said he was among those present on the night of the Hendrix gig and met him in the downstairs bar, the Bolivar, now Joe's Bar. He said: "We ran the club and we were downstairs drinking after the gig when one of the roadies came in and said one of his [Hendrix] guitars was missing. "Hendrix didn't seem that bothered. He was concerned about his white guitar, which was the best one. "But it was his black one that had gone, and this was the one that was more or less used for show, to bang around the mic stand and the amps." Some time later Mr Carrington said he was approached at another gig and offered the black Fender Stratocaster, which had now been resprayed red. He paid £20 for it, selling it later for "between £20 and £30". He said: "The guy who I had got it off admitted he had got it off someone who had 'acquired' it from Hendrix. "I only had it a couple of months and then sold it onto another guy. It ended up with someone living in Shildon or Bishop Auckland, I think." Mr Carrington said he was not particularly impressed with the guitar. He said: "It was horrible. It had been used and abused and was not in a pristine condition. "It could well have been the guitar that Hendrix knocked about. "It did not even sound good. It was a dog as guitars go." Mr Carrington, who now runs the Middlesbrough Music Centre shop, in the town's Newport Road, said he remembered "jamming" with Hendrix after the Darlington gig. He said: "We had a little tete-a-tete after the gig, a little jam, but he was 10,000 miles ahead of the rest of us in the way he played the guitar. "I remember he was in awe of [Eric] Clapton and was very lucid. He was not drugged up at that particular time." He added that he wished he had hung onto the star's guitar, but had no idea where it was now. He said: "I wish I still bloody had it. But in those days there was not the significance about it that there is now. "With Hendrix being such a superstar, it might fetch about £250,000 now."
■
Thanks to Northern Echo reader Yvonne Edwards, from Darlington, for her help with this story.
SOURCE
–––––––––––––––––––––––––––––––––––
'I interviewed Jimi Hendrix in his bedroom'

by Chris Lloyd, Chief Features Writer
"I INTERVIEWED Jimi Hendrix in his bedroom," remembers Allene Norris who was on the "Beat" music beat for The Northern Echo 50 years ago. "He was staying at the Imperial Hotel and he had a white poodle on the bed. "He could certainly play the guitar, but I thought he was quite unassuming. He was actually quite shy – he wasn't one of the many show-offs that I have interviewed in showbusiness." Ian Wright was the Echo's photographer that day, and he was phoned by Hendrix's manager, Chas Chandler, who invited him over for the soundcheck. In his diary, Ian wrote: "Hendricks, Jimi, popular artist, snowing, Chas Chandler 4pm." "It was upstairs in the ballroom at the Imperial, which was then the local venue – I remember next day I had to go there for a Rotary dinner," says Ian, who now lives in Las Vegas and got the only two known photographs of the day. "They started the soundcheck, and it was a bloody racket. It was indescribable. After a few minutes they blew the fuses in the amps, then they blew the fuses in the lights. It all went black and I went off." Hendrix had been booked late in 1966 by the Blue Pad Club, a rhythm and blues club which met in the Imperial, for £90 after a venue in Middlesbrough refused to commit to the unknown guitarist. By late January 1967, with the debut single Hey Joe climbing the charts, the record company offered the Blue Pad £300 to buy Hendrix out of the booking, but the club, supported by Geordie lad Chandler, refused. Reports of the quality of the gig vary. Few people recognised any of the tunes – he probably played a Dylan cover and he must have played Hey Joe – and some people, who had turned up expecting Beat dance music, were rather dismayed by the guitar noise. Other people say that, because of the problems with the wiring, he didn't play much guitar, but instead took to the drums, flicking drumstricks into the crowd. In her review in the Evening Despatch newspaper, Allene noted how everyone stopped dancing and crowded around the stage to see his virtuoso guitar work. Allene says: "I think people were very excited by him coming because it was clear he was going to be someone. The Imperial was very, very crowded and it was a very, very smoky atmosphere." The evening ended controversially when the black guitar went missing. The most common story is that it exited via the fire escape, was sprayed cream overnight, was sold next morning on High Row and has never been seen since (someone whispered to me recently that he had it on good authority that it is currently in an attic in Middleton Tyas). Stories vary about Hendrix's reaction to the theft. The best version is that he was phlegmatic, saying coolly: "Well, I hope the dude can play." But a few years ago, Kenny Beagle, the well known Darlington publican, told Memories that Hendrix had stormed angrily into the Imperial's cellar bar known locally as the Bolly.
"He went down the Bolivar and was really kicking off about it, going berserk," he said. "People were trying to pacify him, but he was very volatile." This may have been because he'd learned that his little tour van had broken down and needed to be pushed in the snow to get it going. Then Hendrix, his two bandmates, Mitch Mitchell and Noel Redding, his girlfriend Kathy Etchingham and manager Chandler all left Darlington. They were spotted later that night at the trendy Club a Gogo in Newcastle, where Alexis Korner was playing, before ending up at a party in Jesmond with the Moody Blues.
SOURCE