1 OCTOBER • SATURDAY

★
"The Polytechnic", Little Titchfield Street, London W1
Jimi jams with the Cream (support: The Washington D.C.'s) playing 'Killing Floor'.
"Hendrix first met Eric Clapton, arguably Britain's greatest rock and blues guitarist, at a Cream gig at the London Polytechnic on Saturday 1 October 1966. 'Jimi came on and stole the show,' recalls Clapton. 'He did his whole repertoire. He did a fast Howlin' Wolf song. Very powerful. He played the guitar behind his head, between his legs, with his teeth, slapped it round on the ground a bit. I just went, "Yeah - this is it! This guy is bound for glory."' Chas Chandler later found Clapton with his head in his hands. Clapton looked up and said, 'You didn't tell me he was that fucking good!'
Clapton and Hendrix became friends, but a simmering rivalry remained." [
Rex Collections – The Jimi Hendrix Experience
, 2005]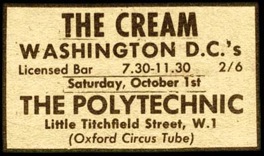 More about this jam
here
.
Steve Barker:
"As an eighteen year old arriving in London in September of 1966, I had already seen a whole series of American Folk Blues Festivals in the UK, with the likes of Sleepy John Estes, Howlin' Wolf, Sonny Boy Williamson and Willie Dixon. In May of that year I had sat behind an electrifying Bob Dylan and the Band at Manchester Free Trade Hall and clearly recall someone shouting a still unreported "Remember Selma Alabama!" So London was no big deal. I was there to study journalism at Regent Street Polytechnic; three of Pink Floyd were there at the same time in the Architecture School. October 1st was the event of the first term, Cream playing at the Students Union. I wasn't a big fan of Clapton's blues output, but Cream was different. The hall was packed. I'd broken my spectacles and couldn't see very well, but around two thirds of the way through a special guest was brought on – someone called Jimi Hendrix!"