18 MAY • TUESDAY
★
TV transmission of "The Wind Cries Mary" (see 10 May for details) on 'Top Of The Pops', BBC1 (19:30 to 20:00).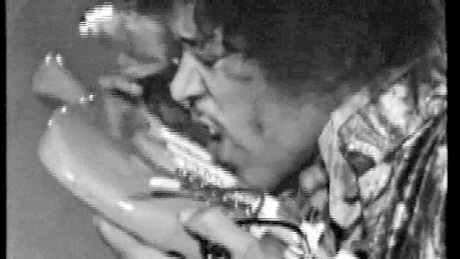 ★
Offenbach am Main, "Stadthalle"
TV rehearsal and live recordings for the German III TV station Hessischer Rundfunk program 'Beat, Beat, Beat!' [show #17].
After rehearsals in the early afternoon the JHE performed: Stone Free; Hey Joe; Purple Haze (all first transmitted on 29 May).
The Experience were introduced by DJ Charlie Hickman. BBB producer: Georg Martin Lange.
Support: Dave Dee & Co.; Sandie Shaw.
★
Frankfurt - Noel Redding telephones Hugh Nolan for an interview in
Disc and Music Echo
(published 27 May).
★
17 or 18 MAY
Frankfurt, "K 52" club. Jimi jams (on bass) with Noel Redding (guitar), John 'Beaky' Dymond (drums - normally the guitarist of Dave Dee & Co.) and Dave Dee (vocals), sometime between 21:00 and 5:00 the next morning. It's possible Sandie Shaw also joined in, although this is unconfirmed.