4 JUNE • SUNDAY
★
London W1, "Saville Theatre" - Rehearsals.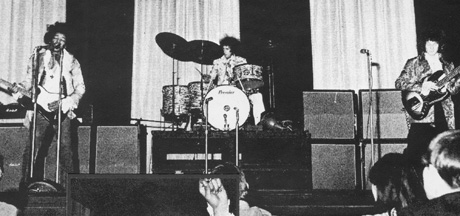 ★
London W1, "Saville Theatre"
Concert (two shows - 18.00 and 20.30 - both sold out).
Support: Stormsville Shakers; Procol Harum; The Chiffons; Denny Laine String Band.
Noel:
"The 'farewell' show at the Saville Theatre is bound to be a biggy. We even rehearse for it and do a special photo session".
Songs for the second show:
Sergeant Pepper's Lonely Hearts Club Band; Foxy Lady; Like A Rolling Stone; Manic Depression; Hey Joe; Purple Haze; The Wind Cries Mary; Are You Experienced?
★
London Wl, "Speakeasy", 48 Margaret Street - Jimi and Mitch attend the Turtles concert.
★
Neville Chesters (previously with The Who) joins The Experience crew as road manager. [AVD]