16 JUNE • FRIDAY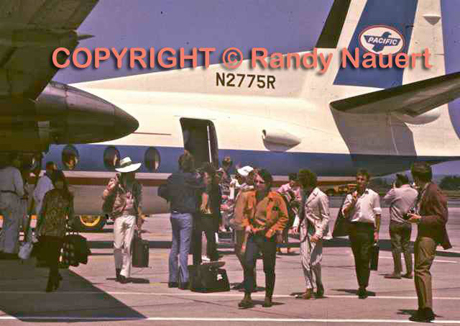 Jimi arriving at Monterey airport. On the left Grace Slick. Also visible are Chas Chandler, Noel Redding, Mitch Mitchell, and Eric Burdon. Photo by Randy Nauert.
★
Flying from San Francisco International Airport, California, to Peninsular Airport, Monterey, California.
Keith Altham:
We stayed overnight in San Francisco and early next morning set out to find an 'indestructible' guitar for Jimi. 'I need a Fender.' explained Jimi. We failed to get the model Jimi wanted but somehow he later acquired one in Monterey. It was the wrong colour but he remedied that by spraying it white and drawing swirling designs all over it with a felt pen.
(
New Musical Express
, 24 June 1967).