31 MARCH • FRIDAY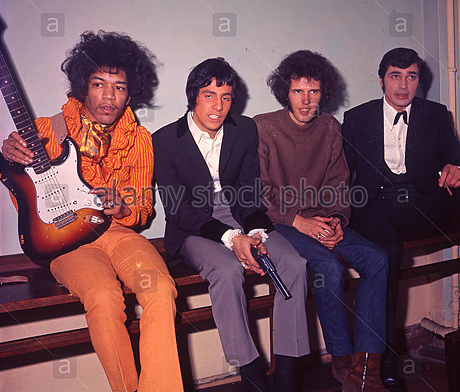 Relaxing backstage on the opening night at Finsbury Park, Astoria (L to R )
Jimi Hendrix, Cat Stevens, Gary Leeds and Engelbert Humperdinck.
★
London N4, "The Astoria", 232-236 Seven Sisters Road, Finsbury Park
Concert (two shows - 18:40 and 21:10).
The JHE embark on their first major UK tour.
The 'package' tour consisted of: The Walker Brothers, JHE, Cat Stevens, Engelbert Humperdinck, The Californians, The Quotations [backing band for The Walker Brothers]; MC Nick Jones.
Songs played (2nd show): Foxy Lady; Can You See Me?; Hey Joe; Purple Haze; and Fire.
During "Fire" Jimi burned a guitar for the first time.