1 MARCH • WEDNESDAY
★
London W1, "Speakeasy", 48 Margaret Street.
Rehearsals.
★
London WC2, "De Lane Lea Music Ltd", 129 Kingsway, Kingsway.
Studio recordings (between 14.00 and 17.00) for "Like A Rolling Stone" (plus possible other songs).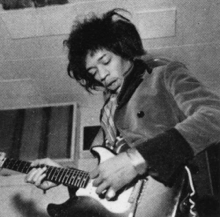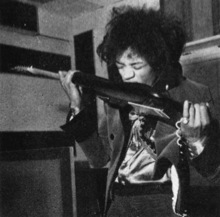 Jimi at De Lane Lea, likely taken on 1 March 1967.
★
Purley, "Orchid Ballroom", Brighton Road, Surrey
Concert (60 minutes between 19.30 and 23.00)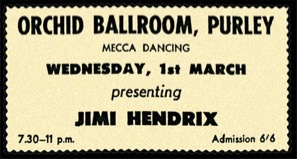 Afternoon rehearsals at The Speakeasy and then over to DeLane Lea Studios where they work on "Like A Rolling Stone" without much success. According to Chas Chandler in the book Sessions, "We did it a few times, but for some reason, Mitch could never keep the time right. It used to drive them nuts, because Mitch would either be winding up or slowing down. The thing that bugged me about that one was that the first time I saw Hendrix at the Café Wha? in Greenwich Village, the first thing he did was 'Hey Joe' and the second was 'Like a Rolling Stone', and for the first time, hearing Jimi sing it, I understood what the lyrics were trying to say. I was a Dylan fan, but I started cooling on him at the time he wrote 'Like a Rolling Stone'. It was the first Dylan song I was struggling with. So we both wanted to record it, but we were never successful. I tried over and over to get it." Evening performance at The Orchid Ballroom in Surrey. We have not been able to unearth any real history on this date. Noel Redding said they were paid £154 for the performance. Initially the building was Purley Ice Rink before becoming The Orchid Ballroom, Tiffanys, Jazz, Cinderellas and Metropole. It is now used as a gym.