10 MARCH • FRIDAY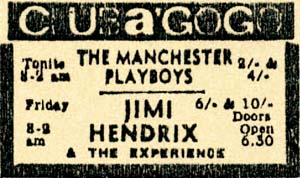 ★
Newcastle-Upon-Tyne, "Club A' Go Go", Northumberland
Concert (two shows between 20:00 and 02:00).
"The first gig of the Jimi Hendrix Experience in Newcastle took place at the Club A Go Go on Percy Street on 10th march 1967. The bands fee for the evening was £250 .There were two shows, one at 8pm in the under 18s room called the "Young Set" and a later show at 2pm in the "Jazz Lounge". There was no support band. During the show in the "Young Set" Jimi put his guitar through the low ceiling and made a hole in it. He had done this a month earlier at the New Cellar Club in South Shields and he repeated the stunt at the Club A Go Go. Here it was definately a deliberate act and witnesses watched in amazement as Jimi rammed the headstock through the plasterboard."
A young Sting (The Police) was at that show and remembers in his autobiography, "The Jimi Hendrix Experience was an overwhelming, deafening wave of sound that simply obliterated analysis. I think I remember snatches of 'Hey Joe' and 'Foxy Lady', but that event remains a blur of noise and breathtaking virtuosity, of Afro'd hair, wild clothes, and towers of Marshall amplifiers. I remember Hendrix creating a hole in the plaster ceiling above the stage with the head of his guitar, and then it was over. I lay in my bed that night with my ears ringing and my worldview significantly altered."