9 APRIL • SUNDAY
★
Repeat transmission on Belgian TV station RTB of 'Vibrato' with the JHE doing "Hey Joe" (see 6 March for details).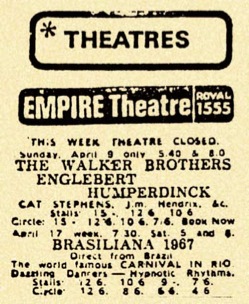 ★
Liverpool, "The Empire", Lime Street, Lancashire
Concert (two shows - 17:40 and 20:00).
Jimi meets Bil for the first time at the concert venue, while history has it that Jimi and Noel got thrown out the "Lord Nelson" pub when they tried (in their stage clothes) to get a drink in between the two shows.
The 'package' tour consisted of: The Walker Brothers, JHE, Cat Stevens, Engelbert Humperdinck, The Californians, The Quotations [backing band for The Walker Brothers]; MC Nick Jones.
★
Final mixing for the Are You Experienced album completed at Olympic. [TSL]