28 APRIL • FRIDAY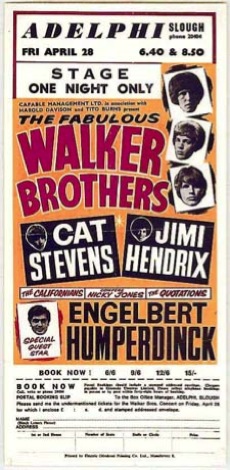 ★
Slough, "Adelphi", Buckinghamshire
Concert (two shows -18:40 and 20:50).
3,000 people attended.
The 'package' tour consisted of: The Walker Brothers, JHE, Cat Stevens, Engelbert Humperdinck, The Californians, The Quotations [backing band for The Walker Brothers]; MC Nick Jones.
★
London Wl, "UFO", 31 Tottenham Court Road (22.00 to dawn).
Jimi jams on bass guitar with the group 'Tomorrow': Keith West (vocals), John Twink' Adier (drums); Stephen Howe (guitar).