17 APRIL • MONDAY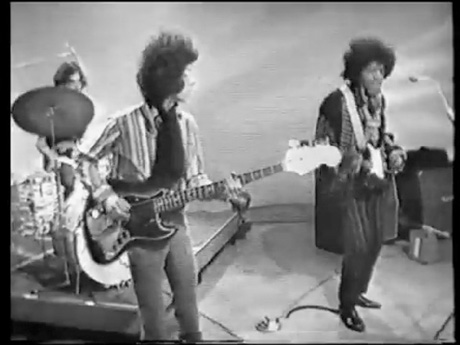 ★
London W2. BBC TV Studio (probably 'Studio 9'), Kingsway
Live TV recordings for two 'Late Night Line-Up' shows on BBC2 TV.
The JHE performed two live songs:
- "Purple Haze" (3:17, transmitted 19 April, between 23:30 and 24:00 - introduced by Michael Dean) – unreleased.
- "Manic Depression" (3:02, transmitted 17 May, between 23:15 and 23:55 - introduced by Tony Bilbow).
★
17 April
London Wl, "Speakeasy", 48 Margaret Street - Jimi jams on bass guitar with Georgie Fame (organ), Ben E. King (drums) and Ben's guitarist [name unknown] on rhythm guitar. NB This jam took place prior to 22 April. [Record Mirror, 22 April report].