19 APRIL • WEDNESDAY
★
Transmission of a short interview (1869) w.ith Jimi on 'Sveriges Radio III' in Sweden during the program 'Pop 67 med Amerikulisten' hosted by Leif H. Andersson between 17:30 and 18:00.
★
Transmission of "Purple Haze" on the BBC2 TV program 'Late Night Line Up' (see 17 April).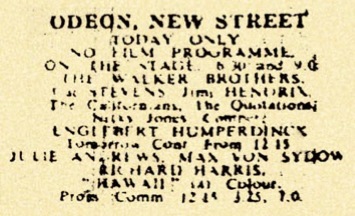 ★
Birmingham, "Odeon", New Street, Warwickshire
Concert (two shows - 18.30 and 21.00).
The 'package' tour consisted of: The Walker Brothers, JHE, Cat Stevens, Engelbert Humperdinck, The Californians, The Quotations [backing band for The Walker Brothers]; MC Nick Jones.