29 APRIL • SATURDAY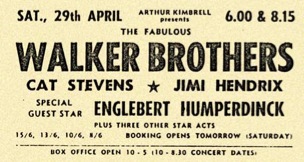 ★
Bournemouth, "Winter Gardens", Hampshire
Concert (two shows-18:00 and 20:15).
The 'package' tour consisted of: The Walker Brothers, JHE, Cat Stevens, Engelbert Humperdinck, The Californians, The Quotations [backing band for The Walker Brothers]; MC Nick Jones.
★
The 14 Hour Technicolour dream a fund-raising concert for underground magazine
International Times
is held at Alexandra Palace, London, N22. It was organized by UFO club creator John "Hoppy" Hopkins. Among the acts were The Pink Floyd, The Soft Machine and performance artist Yoko Ono, while in the audience were John Lennon and Jimi Hendrix. Source:
The British Music Experience
. Unconfirmed if Jimi was there.